It is no secret that the most watched woman in Fashion is not Anna Wintour or even Rihanna. It's actually our first lady Mrs. Obama. Yes, there are websites dedicated to the fashionistas around the globe and even a how to buy one for Rihanna. But no woman holds more influence on what to wear for State Dinners, gardening or travel than
Mrs. O
. Noted for her love of below the radar designers such as Thakoon, Isabel Toledo and even Rodarte, the First Lady has a few other constants in her wardrobe. Take a look at some of the images below as I delve into her fashion psyche.
Whether it's popping hot red or even tangerine or periwinkle , Mrs. Obama does not hold back from embracing hues. If you tend to shy away from accessories, color can be your accessory. We must remember that no one has black or brown undertones. No matter what your complexion, your undertones are more likely closer to actual colors- red, blue gold- you get the point. So instead of running to safe and blah black or navy, next time go for Kelly Green, Magenta or Eggplant for your next purchase.
Hips and Butt are Indeed Lovely

Skirts, belts and sleevless are used by Mrs. O to accentuate those amazing arms, her strong legs, that small waist and a very curvy lower half. I have yet to see the first lady do a Hilary and hide her backside with long jackets and dowdy skirt lengths. When did it become a bad thing to be a woman and have hips? More often than not I hear women complain about where their waist comes in and their hips come out as if they are some sort of freak of nature. Take a cue, from M. and celebrate the feminine form.


It's Okay to Repeat


Celebrity publicist actually tally how many pages their clients get in tabloids. The more individual pics, the more public inquiry. Celebs believe they can't be caught dead in something twice- I don't even think I've seen them in airports with a possible repeat. Again, Mrs. Obama knows she is no celebrity but actually an ordinary woman in extraordinary circumstances. She has public events like every other Washington Mom albeit hers are broadcast around the world. Yet, she has no problem pulling out a favorite piece more than once. It's realistic and it's affordable. With a hard hit economy, it would be a slap in the face to wear an outfit only once, while many Americans are fighting to keep their homes.

It's not Accessories, it's Excessories


The pin, the earrings, all tools to highlight an already great fashion ensemble, Michelle takes delight in this. There is nothing wrong with a dangling earring for day or a sparkly pin for a morning meeting as per the First Lady. Many of these pieces highlight some already very detail oriented works and sometimes they add that extra pop to simple sheaths. So keep your studs for another day and throw on a pair of ordained hoops to make that shift pop.

Hair and make-up should never compete with your clothing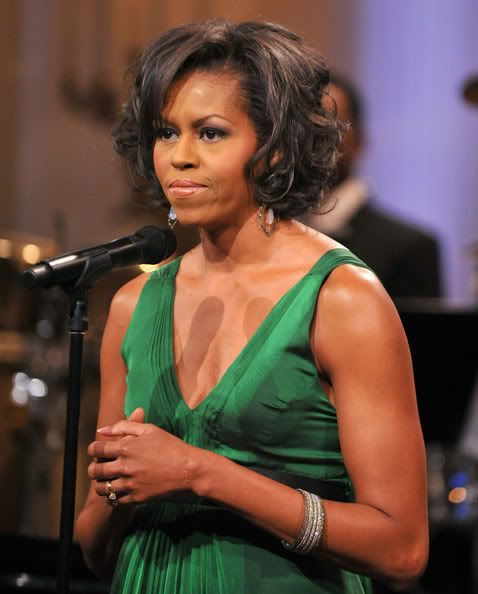 I am not always one for keeping it simple but in Michelle's instance it works. The subdued makeup and soft hair all make it easier for you to enjoy her love of color, print and texture. I can't imagine a Beyonce like mane or even a spiky pixie cut. Michelle has just enough length but not to much. She stays closer to muted colors for makeup and nights on the town are more smoky eye. Make no mistake, she is a woman's woman but a face full of MAC I doubt you will ever see.