I use to be one of those people who wore whatever to the gym. My only need was for it to be clean. My gym outfits consisted of basketball shorts I held on to from middle school and the varying concert tees I've collected throughout the years. Those garments were far from conducive to me having my best work outs. The tee shirts were weighing me down with perspiration, the pants were either too bulky or too tight hindering my form as I was strength training or falling down every time I did a squat. It wasn't until I was introduced to
ALO
a line of yoga clothes and active wear did I realize what I had been missing.The technology of ALO's
Color Block Strap Tank
made it easier for me sweat. Yes, sweating can be easy especially if your clothing has built in mesh for breathability and ventilation.
Before my fitness enlightenment, when I wasn't wearing my take on vintage workout shorts, I would also wear these leggings no longer suitable for day to day. I thought they were decent enough for jogging, boy was I wrong. The unflattering sweat stains in not so strategic locations were not my only issue. The combination of a low waist band and a curvy bottom makes for a lot of stopping mid workout to hike up your pants to avoid mooning the world. That's where the
Relay Capri from Athleta
saves the day. Just this past Friday, I took a kickboxing class and for an hour I kicked and squatted myself until my legs turned into jelly but not once did I pull up my pants.
The Relay Capri
and it's relative the
Relay Tight
are composed of a high waistband, and movable crotch area with a decent length inseam enabling you to perform a more high impact routine.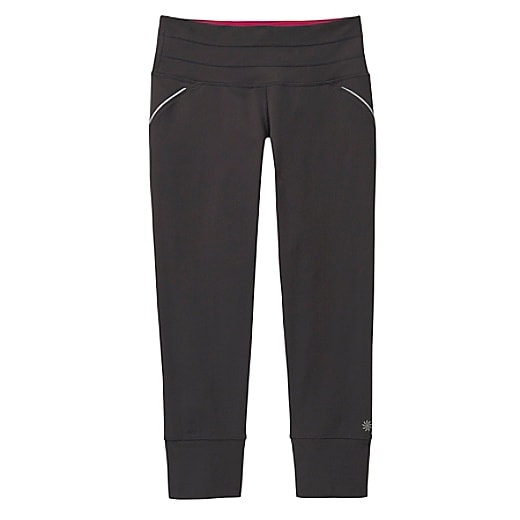 Athleta Relay Capri $69
On days where I take a low impact workout, I've become addicted to Macy's new line
Ideology
. Endorsed by Dancing With The Stars champion Cheryl Burke, the movement friendly line is excellent for my yoga, pilates or pole dancing classes. When you are doing wide stretches and very fluid movements, you never want to turn overhead and your tee shirt suffocates you. What you also want is freedom for your joints to allow for your body to reach its full potential with flexibility. I'm looking forward to wearing my
Seamless Sports Bra
by Ideology at my newest fitness craze Ballet Barre. The seamless bra doesn't squeeze into my shoulders or upper rib cage allowing for easy breathing and movement. It's a a lightweight garment that is still supportive. Workouts can get a little easier, just wear the right stuff.
Ideology Seamless Sports Bra $10-$19