Cheese is a decadent and delicious necessity in my home. A slice of Asiago with a crisp white wine after a long day, can bring great joy. Everyone loves mac and cheese, the ultimate comfort food and of course just this week, in a fit of hunger I made a savory grilled cheese with fontina. Since it's Foodie Fridays you can't walk away with out a great recipe or two so check out these ravishing cheesy recipes and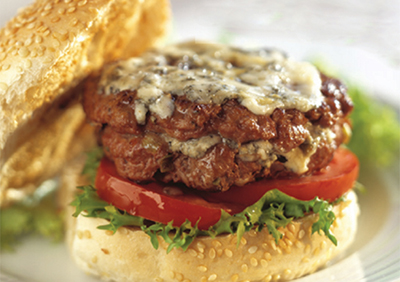 Blue Cheese Burger
1 lb lean minced beef
1 bunch spring onions, finely chopped
1 tsp salt
black pepper to taste
handful fresh sage, finely chopped
6 Castello® Extra Creamy Blue cheese slices
1 tbsp olive oil
few salad leaves
4 sesame burger buns
Directions
Place the minced beef into a bowl, add the onions, seasonings and sage and mix well together. Divide into 4 equal portions and then divide each portion into two, giving 8 portions of meat. Flatten each out into a flat burger shape. Place a slice of cheese on top of 4 of the burgers and top with the remaining 4, sealing with a little water. Heat the oil in a large frying pan and cook over a moderate heat for approx. 3-4 minutes per side. Serve with a little salad in a toasted bun topped with another half slice of cheese.
Baked Artichoke and Cheese Dip
1 small (1/2 cup)
onion, coarsely chopped
1 medium (1 cup)
red bell pepper, coarsely chopped
1 teaspoon
finely chopped fresh garlic
3 tablespoons
all-purpose flour
1/2 cup
freshly grated Parmesan cheese
1 (3-ounce) package
cream cheese, softened
1/2 cup
chopped fresh parsley
1 (14-ounce) can
artichoke hearts, drained, cut into 1/2-inch pieces
1 teaspoon
freshly grated lemon zest
1/2 teaspoon
coarse ground pepper
Crackers or French bread slices
Melt 1 tablespoon butter in 10-inch skillet until sizzling; stir in onion, red pepper and garlic. Cook over medium heat, stirring occasionally, 1-2 minutes or until vegetables are crisply tender.
Melt remaining 3 tablespoons butter in 3-quart saucepan; stir in flour. Cook over medium heat, stirring constantly, 30 seconds or until smooth and bubbly. Stir in half & half. Continue cooking, stirring occasionally, 2-3 minutes or until mixture comes to a full boil. Boil 1 minute. Remove from heat.
Stir in Parmesan cheese, provolone cheese and cream cheese until melted. Stir in 1/4 cupparsley, mayonnaise, lemon juice, artichoke hearts, lemon zest and pepper. Add cooked onion mixture; mix lightly.
Pour vegetable and cheese mixture into shallow 1 1/2-quart ovenproof casserole. Bake 25-30 minutes or until bubbly.
Sprinkle with remaining 1/4 cup parsley. Serve with crackers or French bread.
Sartori Smokey Paprika Cheese Biscuits
2 ¼ cups biscuit mix
½ cup Sartori® Pastorale Blend® cheese, shredded
2/3 cup milk
1 tablespoon butter, melted
½ teaspoon Smoky Paprika
Directions:
In a large bowl, combine the biscuit mix & cheese.
With a fork, stir in milk just until moistened.
Put onto floured surface & knead 10 times.
Roll to ½-inch thickness & cut into 2 ½-inch circles.
Place on an un-greased baking sheet. Brush with butter & sprinkle with paprika.
Bake 450° 8-10 minutes until golden brown.